A Celebration
We welcome our 10,000th Patient to Stillpoint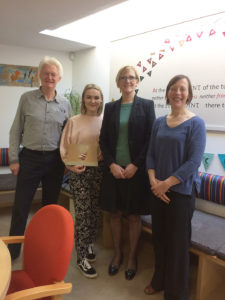 Today we welcomed Miss Amy Clarke, our 10,000th osteopathic patient, to Stillpoint.
This is very much a family affair, Amy's sister; mum and dad all attend our clinic. To celebrate we presented her with a box of chocolates and a complementary treatment. She is pictured here with her Mum, Jan and osteopaths Peter Cockhill and Rosalind Ward.
Osteopath, Peter Cockhill opened his first clinic in Bath in 1983. He went on to open Stillpoint in Broad Street Place, Bath in 1985.
In 2012 Stillpoint relocated to a new purpose built Centre in Old Orchard, Walcott Street Bath.
Since those early days the clinic has grown and grown and now 34 years on we have a team of highly experienced osteopaths looking after the needs of patients from babyhood onwards, through all ages.