Contact Stillpoint in Bath 
Address:
The Stoneyard, Old Orchard, Bath BA1 5AX
Appointments:
To speak about any of our services or make an appointment:
Call 01225 460106 or email enquiries@stillpointbath.co.uk
Cancellations:
PLEASE DO NOT CANCEL BY EMAIL
Please call 01225 460106 to cancel appointments. 24 hours notice is required or you will be charged.
Business Hours:
Monday to Friday: 9am to 5pm
Saturday: 9am – 1pm
Sunday: Closed
Closed: Christmas day / Boxing day / New Years day
Directions
We are off Walcot Street, between the Italian and Thai restaurants, down Old Orchard, through the Beehive Gates, you will see the new centre on your left. Turn left into the courtyard and Stillpoint is immediately on your left.
Parking and Access
The closest parking is in the Podium/Waitrose and on Walcot Street. We are sorry but there is strictly NO PARKING in the courtyard, but you can be dropped off right at the door. There is vehicle access for taxis and cars down Old Orchard for those whose mobility is impaired. There are no stairs and we have level access for wheelchairs and full disabled facilities.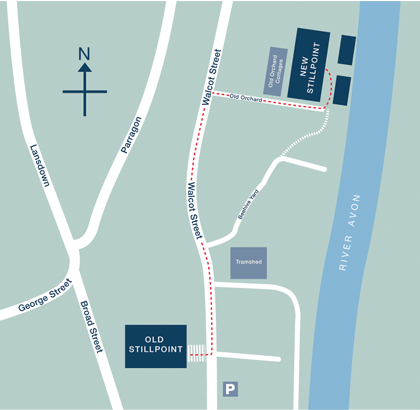 Send us a message
If you have any queries regarding our services. Please use this form to contact us. Please do NOT use this form to cancel appointments.