Update May 2022:
We're happy to report that Violette Aubry is on maternity leave at present.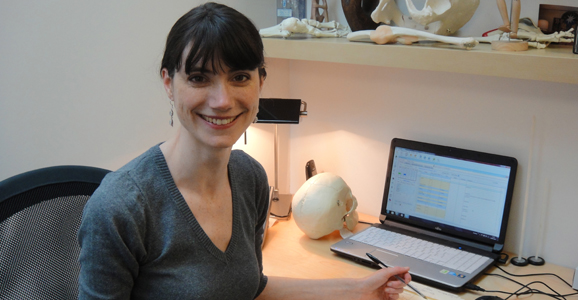 Violette Aubry – Osteopath
D.O. BSc (Hons)Ost, MSCC, Animal Ost Cert.
Originating from France, Violette is from a medical family background. Studying the different modalities of healing, she became increasingly interested in a non-invasive system of medicine, which would be respectful of the body, and enhancing its self-healing abilities. That's how she came across Osteopathy. She had heard about the good reputation of English schools and decided to enrol in a four-year full-time course at the European School of Osteopathy in Maidstone, from which, she graduated in 2007.
Since, she has been very dedicated to her career, engaging in a 10-year post-graduate pathway of studies with the Sutherland Cranial College and the Biodynamic faculty, where she developed her skills in the gentle treatment modality called cranial Osteopathy.
Having an interest in babies and children, she has extended her studies in this field and is about to complete her Paediatric Diploma this year. She is one of the osteopaths involved with Baby Check Bath, a local community interest company, providing osteopathic treatment for newborn babies, for the last three years. She is also part of the research team helping to carry the osteopathic profession forward.
Violette cares about vulnerable people, who can't always voice their problems and she finds a way to interact with their pain physically. She is interested in the art of understanding each patient's needs and delivering a tailor-made treatment. Violette is listed as Number 14 out of the top 20 UK osteopaths according to Midult!
Her love of animals drew her to get a canine and equine Animal Osteopathy Certificate in 2016.
In her personal life, Violette likes to support green farming and sustainable issues. Her hobbies are singing, playing the piano, dancing, photography, sailing and yoga.